Roll over image to zoom in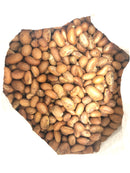 Description
Origin: Garcinia kola is a species of flowering plant in the Clusiaceae or Guttiferae family. It is found in Benin, Cameroon, Democratic Republic of the Congo, Ivory Coast, Gabon, Ghana, Liberia, Nigeria, Senegal and Sierra Leone. Its natural habitat is subtropical or tropical moist lowland forests.
Benefits
Bitter Kola serve as a remedy for osteoarthritis.


Bitter Kola helps combat sexually transmitted diseases (STD's).

It helps improve immune system.

It helps with impotence or erectile dysfunction and increases sex drive.

It boosts fertility.

Bitter Kola aids proper functioning of the lungs.

It helps with weight loss.

Helps reduce constipation.

It helps balance blood sugar level.
Fun Facts
The nut is relatively large, being about the size of a chestnut.
The kola nut has a bitter taste but becomes sweeter, as it is chewed.
The kola nut may be beneficial for certain health conditions.
**No known Allergies.
Payment & Security
Your payment information is processed securely. We do not store credit card details nor have access to your credit card information.