Roll over image to zoom in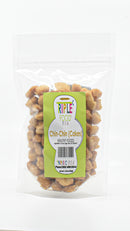 Description
Irresistibly sweet and mouthwateringly delicious, CHIN CHIN crunchies are totally crave-worthy! Individually handmade using a traditional recipe with West African origins, these delectable fried goodies are best enjoyed during holidays spent in the company of family and friends. Pair them with coffee, tea or wine to treat your taste buds with an indulging gourmet experience.
About the product
• Contains 14-ounce pack of original crunchy cinnamon snack
• Irresistible Sweet West African crunchy snacks
• Handmade in small batches using a West African traditional recipe
• Freshness you'll enjoy down to the very last bite
• Enjoy with your morning coffee or tea
Ingredients: Enriched flour, Sugar, vegetable oil spread egg, nutmeg, milk, Canola oil
Payment & Security
Your payment information is processed securely. We do not store credit card details nor have access to your credit card information.